Two Blackmer Gear (formerly EnviroGear) E series pumps featured on this skid have unique superior design features to allow longer life cycles then other mechanically sealed or seal-less internal gear pumps on the market.
What creates this distinct feature, the Between-the-Bearing System, a specially designed spindle that protects the rotor and idler gear from hydraulic force by supporting at three distinct areas. Typically seen in most pumps are cantilevered, supported all the force at one end, with the Between-the-Bearing this force is spread between the head, crescent location, and the back of the containment canister.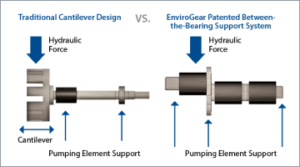 Beyond creating a more durable internal gear operation the unique design also eliminates leaks, making it a premier pump to ensure high-quality long-lasting performance.