At Anderson Process, our mission is to enhance the profitability of each of our customers by providing expert-driven equipment integration and services that increase production output, reduce maintenance costs and drive operational efficiency.  Through close collaboration with our customers, we strive to add value in ways that simple warehouse suppliers can't, without the impractical costs and processes associated with full systems engineering firms.
We offer a variety of equipment that covers the full spectrum of fluid handling applications, all from top-tier manufacturers for the most reliable and supported products in the industry.  Anderson Process brings additional value with our in-house engineering, repair, and fabrication services along with a team of experienced territory managers well-versed in the world of fluid management.  Learn about our full range of capabilities in out Integrated Solutions Brochure: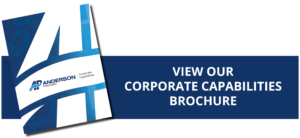 Explore our literature below.  We offer solutions by market and a variety of additional programs & services.  Our line cards are separated by state/region so that you know what supplier brands are available to you in your area.