Anderson Process has over 60 years of experience in fluid handling and fabrication, which includes food processing product fabrication. Made from robust materials, such as stainless steel and engineered to get the job done right the first time, Anderson Process provides sanitary food processing products of the highest quality. Featured below are some of our quality food processing products, including our stationary hydrosieve, rotary drum strainer, and hydro-transport product tank.
Stationary Hydrosieve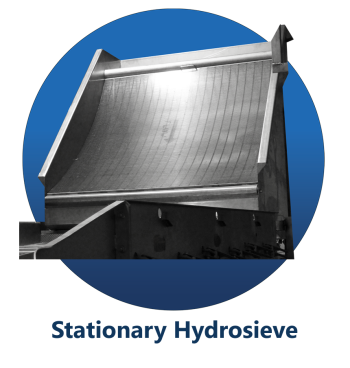 For dewatering and screening wastewater, look no further than Anderson Process' stationary hydrosieve. The Anderson Process stationary hydrosieve features solid, stainless steel construction and product dewatering technology that separates liquids from solids. The hydrosieve screen, constructed of stainless steel bars and a triangular cross section, is engineered to use the velocity of the flow to remove dirt, wastewater, and other substances, leaving only the solid food product. Once the solid food product passes over the screen, sans moisture and dirt, it departs the front of the unit and enters the next stage in the processing sequence. Recapturing products, such as beans and vegetables from washing, chilling, or rinsing flume water are some common uses of the stationary hydrosieve. The stationary hydroseive can also perform a rough screening process of process water and remove food waste like stems, peels, leaves and other waste of similar ilk. Featuring a convenient, tilt-out screen for easy cleanup, the stationary hydrosieve is relatively easy to maintain and it's quiet operation provides one less distraction for the operator.
Rotary Drum Strainer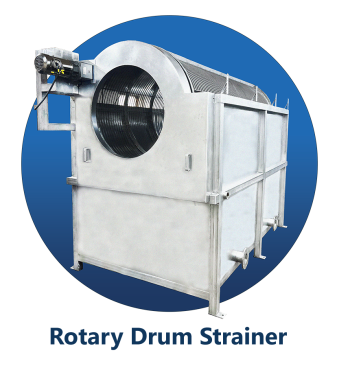 Robust and reliable rotary drum strainers, fabricated by Anderson Process, reduce industrial waste, and increase product recovery. The Anderson Process rotary drum strainer features a wedgewire or perforated screen that efficiently separates liquids from solids. Water is effectively removed from foods including vegetables, seafood, poultry, pork, and red meat. Screen openings can be fabricated to go as low as 0.10", to maximize product recovery and contribute to strong economic savings over the long haul. Anderson Process rotary drum strainers also feature a UHMW gear drive. UHMW is a sanitary, wear resistant plastic blend that doesn't absorb moisture, so there is zero chance of corrosion, making it an ideal choice for applications that feature heavy liquids. Made of high-quality materials with a cutting-edge design, Anderson Process rotary drum strainers have become the premier choice in the food processing industry.
Hydro-Transport Product Tank
Anderson Process hydro-transport product tanks feature a bed of water that gently handles and transports food products. It quietly conveys, shields and is capable of transporting food products for especially long distances. Food items, such as corn, peas, beans, potatoes, pasta, fish, etc… can be pumped without issue. Anderson Process engineers work with customers to design a system that comfortably fits operational needs, while enhancing efficiency and production yield. Other applications Anderson Process hydro-transport product tanks can be used for during transport include blanching, washing, cooling, preheating and additive application.
---
Check out our brochure on our Food Processing Fabricated Products:
Food Processing Fabricated Products Brochure
For more information on Anderson Process' fabrication capabilities check out the Custom-Engineered Skids & Fabrication section of our website: